blog
Like most of the folks in the Bay Area 2 weeks ago, we were excited to have the Grateful Dead (or "The Dead" or whatever they were officially billed as) back in town. Even if it was for their final shows as a band. We said farewell the same way we said hello - in the parking lot just off of Shakedown Street. We shared the wine. And it was great to see one last time.
Below is a photo of the scene inside the show. Cheers to the Grateful Dead. We'll enjoy our wine to your tunes for many years to come...
It's time to plan on coming to West Of West, the West Sonoma Coast Vintners tasting event in Sebastopol, CA, July 31st - August 2nd. This is our hometown event and always a blast. If you want to taste the best of what West Sonoma has to offer, it's a must-attend event!
Tickets include:
Friday, July 31, 2015

Opening Ceremony: A West County Whole Hog Celebration | 6pm-10pm
The WOW weekend kicks-off with a warm welcome as part of its inaugural Opening Ceremony followed by a West County whole hog celebration held at an historic Martinelli property. This casual and relaxed evening will include live music and of course, plenty of great West Sonoma Coast wines. Mix and mingle with the vintners, growers and an all-star list of sommeliers from the finest restaurants in the nation to learn what makes West Sonoma Coast so special.

Saturday, August 1, 2015

Saturday Seminar and Lunch | 10am-2:30pm
Ode to Chardonnay: Award winning wine journalist and author Elin McCoy will moderate this blind tasting exploring benchmark Chardonnay regions from around the globe extending from Burgundy to the cool climate of the West Sonoma Coast.

Lunch
A catered lunch prepared by Rocker Oysterfeller's and Firefly Fine Catering immediately follows the first seminar on the picturesque grounds of The Barlow.

A Study of Terroir: the Wines of Freestone and Occidental.
Gain a better understanding of the coastal influences, extreme conditions and unique terroir of the West Sonoma Coast through a guided blind tasting of 2013 Pinot Noir hailing from various vineyards throughout its Freestone and Occidental sub-regions.

VIP "All Access Pass" Grand Tasting preview | 2:30pm-3pm

Grand Tasting | 3pm-6pm
Spend the afternoon under the Grand Tasting tent exploring wines from roughly forty different winemakers and growers located throughout the extreme West Sonoma Coast. This unique tasting gives guests an opportunity to sample rare and hard to find wines that grace some of America's top wine lists. Complementing the wines will be a selection of artisan foods from top local purveyors.

Grand Dinner with Live Music | 6:30pm-10pm
The special seated dinner has literally moved under the stars this year. It will feature an outstanding local culinary bounty prepared by Sonoma County's award-winning Stark & Co. The evening will start with a band and a local oyster bar followed by porchetta carved tableside, halibut cheeks, Dungeness crab, fennel sofrito and many more specialties from our region. The Grand Dinner will be paired with a selection of fabulous library and reserve wines brought by our distinguished vintner guests. Feel free to bring special wines from your cellar to further spread joy as you are seated with new and old friends as well as winemakers from throughout the West Sonoma Coast.

Sunday, August 2, 2015

Viticulture on the Edge of the Continent: A Stroll Down Taylor Lane | 12:00pm – 1:30pm (Vineyard Tour*)
Take a late morning drive through towering Redwoods and coastal views ending at the West Sonoma Coast's renowned Taylor Lane. After tasting some of the wines from these famed vineyards during Saturday's second seminar, you will have a chance to visit the host vineyards, speak to the people who farm them, and understand the terroir of this special region like never before as you walk down a ridge top overlooking the magnificent Pacific Ocean.
* You are responsible for your own transportation to and from the vineyard. Directions will be provided.

Grand Tasting | 2pm–5pm
Finish your weekend with a return to the Grand Tasting tent where you can continue to explore the wines from more than forty West Sonoma Coast producers and growers.

from the article:
"Humiston points out the 2012 Nicolas Rossignol Volnay Rouge, a premier cru from Burgundy, sitting alongside a bottle of 2012 La Pitchoune Sonoma Coast pinot noir. "I know both of these winemakers personally," she says. "they are relatively young men, and they are not afraid to take risks. I think their wines reflect not only the terroir but also their courage and confidence in the cellar."
Andrew was out checking on our grapes in the vineyards yesterday. Here are some pictures from English Hill where we have some Pinot Noir grapes. The 2015 vintage is looking great as long as the weather holds out...
Join us and other great Sonoma wineries at City Winery for an evening wine tasting, from 6 to 9pm on May 20th. The area is part of California's Sonoma County, and has distinguished itself as one of the world's leading regions for top quality Pinot Noir and Chardonnay.

West Sonoma Coast Vintners is proud to host West of West (WOW) Chicago which offers wine lovers an inside taste of some of the most acclaimed cool-climate wines.
Wineries that will be there:
Alma Fria
Baker Lane
Banshee
Ceritas
Claypool
CrossBarn
DuMol
Emeritus
Ernest
Failla
Flowers
Fort Ross
Freeman
Gregory James
Gros Ventres
Hartford
Joseph Phelps
La Pitchoune
Littorai
MacPhail
Martinelli
Peay
Red Car
Senses
Siduri
Small Vines
Sojourn
Soliste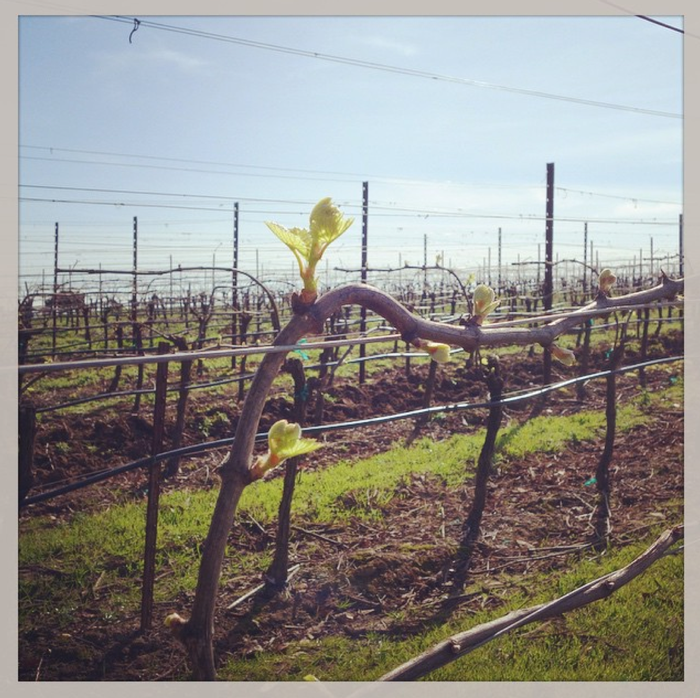 As I write this it is 70 degrees and sunny, and Northern California has just experienced one of the driest and warmest January's in history. Thankfully, heavy early season rains in Sonoma County have maintained normal totals for the season so far and another large storm is expected this weekend. The warm, dry January has done two things for us this year. First, it has allowed crews into the vineyards uninterrupted by wet weather to prune. Second, bud break has occurred in most of our vineyards, which is 1 – 2 weeks earlier than last year, which was also an early year. Thankfully, pruning was completed in a timely manner, as new growth is very delicate and easily damaged at this point. It is still a long ways off, but harvest will likely start in early August for 2015. A lot can happen until then and I won't speculate too much on the potential quality, but if we continue to experience the weather we have now we should have ideal conditions of early season growth and flowering, like we had in 2014.